A Scottish Journey Like No Other
Towering mountains and enchanting lochs. Dramatic castles and quaint villages. Infamous battles and gripping legends.
Since my first visit to the UK, the undeniable charm and diverse landscapes of Scotland had placed the country high on my travel bucket list. Hence, when the opportunity arose to travel with my father on Back-Roads' A Scottish Journey tour, I knew this would be an incredibly unique trip. 
Starting and ending in Edinburgh, the 'old man' and I spent nine days exploring the mesmerising landscapes of Cairngorms National Park, Isles of Skye and Mull and Scottish Highlands. Embracing the Back-Roads style of travel from the get-go, we immersed ourselves in the rich history and culture of Scotland's ancient lands – all the while, sharing laugher-filled meals with our new-found friends and extremely knowledgeable guide and driver.  
Upon conclusion of the tour, it was difficult to refine our highlights to just a few – but after a couple of drams and a natural level of compromise between father and daughter, we managed the task. Thinking of discovering bonnie Scotland for yourself? Let our top three experiences inspire you.  
Journey to Cairngorms National Park 
Embracing the scenic route was never as accurate as our first day of our Scottish journey. After meeting in Edinburgh, we made our way to the East Neuk of Fife – stopping first at Anstruther; a quaint and colourful fishing village for a chance to stretch our legs and breathe the fresh coastal air. Then: a quick roadside stop outside of Pittenweem to pick up some fresh, locally-farmed strawberries and blueberries as we continued on to St Andrews.  
Rob, our expert guide, walked us around the Cathedral ruins explaining the fascinating history behind Scotland's largest medieval church, before we continued on through the lush St Andrews University grounds. Dad and I spent our free time tucking into a pub lunch of fish and chips, exploring the tiny village stores (Dad with his credit card firmly stowed away) and indulging in a scoop of Jannettas Gelateria's famous whisky ice cream.  
The remainder of the day was spent gazing out the coach windows at the fiery autumn colours of Perthshire's rolling moors and lush forests, as we slowly made our way to Cairngorms National Park – with plenty of photo stops along the way.  
After a quick lesson in caber tossing at Braemar Royal Highland grounds, we checked into our beautiful accommodation outside of Ballater – where concluded our first day with a hearty group meal at the hotel.  
Whisky Tasting and Cooperage Visit
It would be difficult to conclude a visit to Scotland without having learnt more than is probably necessary about whisky. As a new consumer of this 'liquid gold' I was eager to learn more about the history of Scottish whisky culture – and try a few drams in the process, of course!  
As we wound our way through the awe-inspiring mountains of the Highlands into the Speyside area, Rob delved into the long and fascinating history of Scottish whisky – taking the time to explain the processes (and mysteries) behind producing Scotland's most famous export.  
We were lucky enough to have the opportunity to visit Speyside Cooperage – home to the ancient art of coopering since 1947. Here we were taken through the life cycle of a whisky cask – from sourcing the correct oak to the fine art of charring the barrel and continual inspection and repair of the barrels.  
Our education in Scottish whisky culture continued the following day when we were treated to a comprehensive tasting at The Malt Room. A cosy and intimate whisky bar located in the heart of Inverness; this was the perfect place for my first sampling of whisky from various regions of Scotland.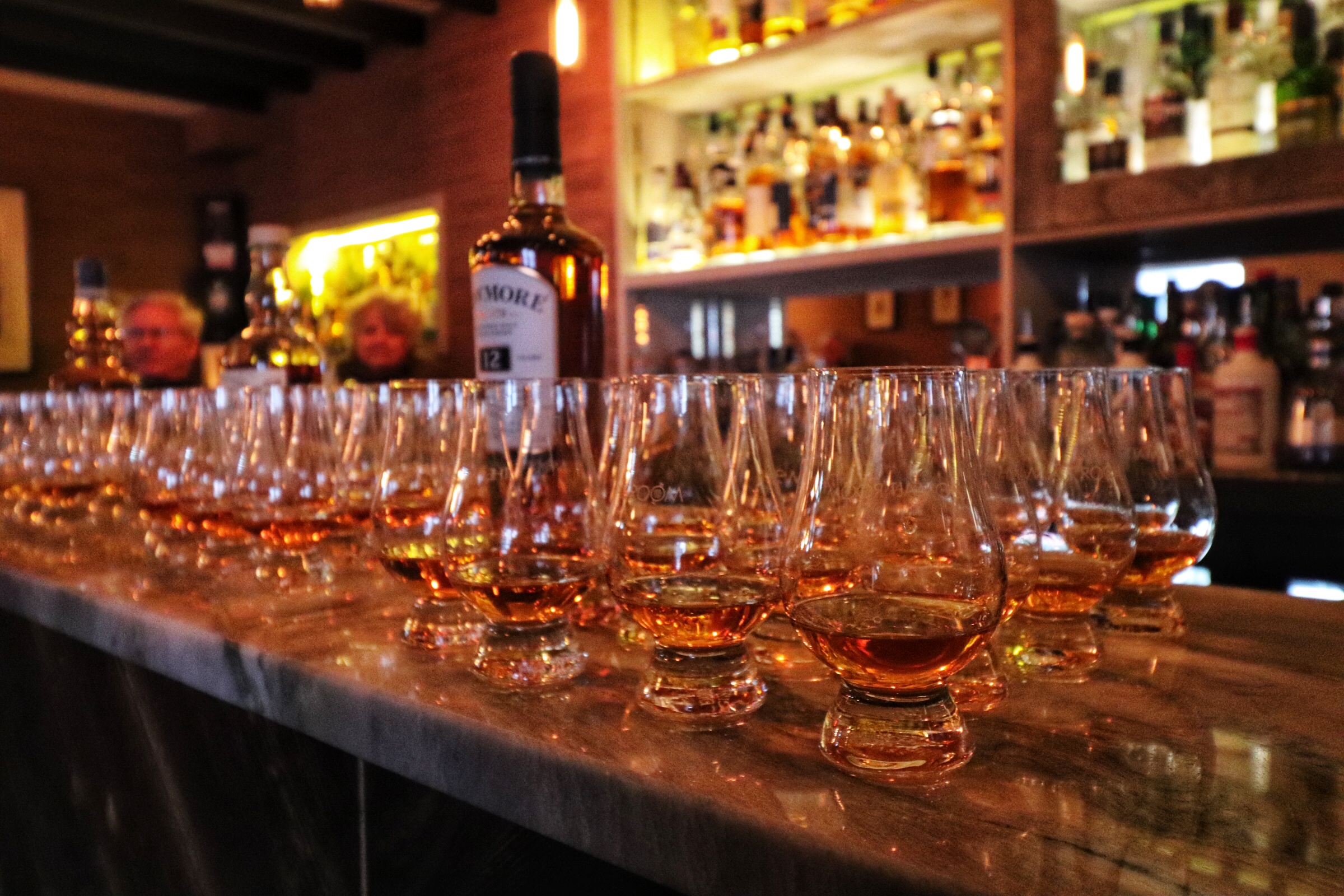 The Malt Room staff comprehensively walked us through our tastings of Old Pulteney, Balvenie and Bowmore whiskys – explaining the varying degrees of 'smokiness' based on the region in which each were produced.  
As per the welcoming Scottish hospitality, the group were invited to stay and continue to taste more from The Malt Room's extensive selection of over 200 malts – which we all eagerly excepted, of course!  
Isle of Skye
Stunning landscapes, rare wildlife and quaint villages – the Northern Highlands deliver on every level. Continuing our journey through the soul-stirring Scottish scenery, we spent two nights on the infamously beautiful Isle of Skye.  
We began our full day tour around Skye with a quick stop at the quaint fishing village of Portree. Famous for the colourful houses lining the 200-year-old harbour, Rob guided us along a headland walking path – pointing out the local flora and fauna as we took in the views.  
Gazing out of the coach windows at the breath-taking scenery passing by, it's hard to imagine life on Skye over 2000 years ago but our next stop at an ancient Pictish broch certainly helped us to imagine. After a short walk up to the hilltop broch, we were welcomed with sweeping views of the rugged landscape below. As we explored, Rob explained these stone formations were thought to have been built as a lookout or defensive structure from raiders centuries before. 
Then, it was time to discover the island's unique geology with a tour of the Trotternish Peninsula. Our first stop was Quiraing –  an imagination-firing formation easily recognisable from Hollywood movies like Stardust, Macbeth, The BFG and Snow White and the Huntsman. We continued our journey to pass Kilt Rock and the Old Man of Storr – with plenty of photo stops, of course! 
And just when the day couldn't get any better, we rounded up our journey with a stop at Cuillin Brewery for a pint of two of locally brewed ale.  
Ready to discover Scotland for yourself?
Our Scottish journey took us from quaint fishing villages to Hebridean islands, ancient castles to century-old whiskey distilleries, autumn-coloured rolling moors to breath-takingly rugged coastline. And exploring this enchanting country with Back-Roads made it journey I will never forget.