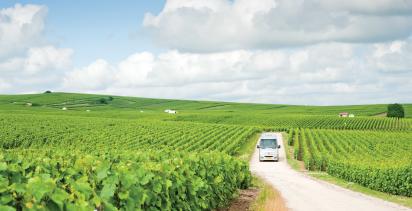 FAQS General Questions
Who goes on Back-Roads tours?
The majority of our guests come from Canada, the USA, the UK, Australia, New Zealand and South Africa. All tour commentaries are in English.

Our tours appeal to those looking for a more relaxing style of travel, and who enjoy culture, good food, meeting like-minded people and exploring destinations in depth. We welcome first-time travellers, but also find that many of our passengers have travelled with us before!
Are the tours always guaranteed to run?
As a general rule, we are normally able to guarantee our tours when we have a minimum of six passengers booked.

However, some tours require a higher number of booked passengers before we can guarantee that they will run. Examples include our French canal tours and our tours of Norway.

Guaranteed tours are identified on our website, and your travel agent will be able to advise you of a tour's ongoing status.

If we are forced to cancel a tour, you will be advised at least 6 weeks in advance. You will then have a choice of a full refund of the amount paid for the tour, or an alternative tour.
What level of mobility do I need?
You need to be fit enough to get on and off the vehicle on a regular basis, and to walk both to attractions and around towns and villages.

You also need to able to walk up and down stairs in the hotels and use a shower over the bath. We frequently use traditional style hotels and the majority will not have lifts or ground floor rooms.

Unfortunately we are unable to accommodate mobility scooter or wheelchair users.

If you have any medical issues, please declare them to us in advance of your tour. If you are in any doubt as to whether our tours are suitable for you, please check with us.
Can I plan a customised tour?
At Back-Roads, we only offer scheduled departures. We are unable to provide customised tours.
When is the best time to visit Europe?
We have lots of departure dates, so there's sure to be one that suits you!

Most travellers prefer to visit the UK and Europe during the summer months due to the warmer climate. July and August are the peak months for tourists, and popular destinations are likely to be particularly busy during this time.

If you prefer to travel away from the crowds, you may wish to choose a departure in March, April, May, June, September or October.
When is the best time to visit Asia?
Our tours visit southeast Asia, which has a tropical climate that tends to vary significantly from region to region.

Our departures run from September to March, which tends to be the drier season in most destinations.

Cambodia, Bangkok and southern Vietnam are hot year-round. The further north you travel, the temperatures tend to be a little cooler in November, December and January.
Are Back-Roads tours suitable for children?
Our tours are designed principally for adults, but we will consider accepting children aged 12 or over on request.

Please note: family rooms are not always available. We do not offer child rates.
Do I need to purchase travel insurance?
Yes. While you are welcome to purchase a travel insurance policy of your choosing, we will require you to provide the policy number and company information to us prior to departure.

This is to ensure that our Tour Leaders have all of your information prior to arrival – in case they need to step in and assist you before or during the tour.
Information for travel agents