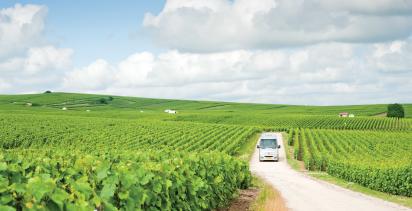 FAQS - Tour Itineraries
Can you describe a typical day out on tour?
Our tours are conducted at a leisurely pace; we take our time and avoid rushing from place to place. Stops are made frequently during the day to avoid extended periods of time on the coach.

On a typical day, we might leave at 9am and arrive at our hotel at 5pm.

We endeavour to build rest and relaxation time into our itineraries, and most inclusions are not mandatory – so if you'd rather explore on your own, you're welcome to meet up with the group at the designated meeting point.
How flexible are Back-Roads itineraries?
Some of the visits listed in our itineraries are fixed and included in the overall price of the tour.

However, there is some flexibility to adapt the itinerary according to such things as the weather, special events and group wishes. This is one of the beauties of small-group touring!

If you have a specific request that's not on the itinerary, we will do our best to accommodate it – but this will depend on the agreement of your fellow travellers and the judgement of your Tour Leader.
How much walking is there?
Your Tour Leader will guide walking tours of cities on your itinerary.

On European mainland tours there is a considerable amount of walking. Many historic cities prohibit motorised transport, meaning that your Driver will need to park some distance out of the centre.

You may encounter a few cobblestone streets on our tours in Europe, so we recommend bringing walking shoes or flats instead of high heels.

Please note: if you have a mobility problem or concern, you may not find our tours suitable. Contact us if you have any doubts.
Is there time to shop?
Of course! We will not, however, take you to any 'commission' stops. Our Tour Leaders are not permitted to profit from your shopping.
Am I expected to leave gratuities?
Gratuities are not included in your tour price.

Tipping your Driver and / or Tour Leader is entirely at your discretion.
How much driving will there be?
We design our tours so that there is as little time as possible on the mini-coach and plenty to see while on board. We travel along the scenic route wherever possible, meaning you'll see more of the countryside and local village life than on a regular tour.

Inevitably, there are days when travelling between locations may involve motorway driving and more mileage.

Generally, driving time will not last for more than three or four hours per day.
Benefits of travelling in a small group
Unlike large coach companies, Back-Roads offers guests a truly personal experience.

On our tours you'll meet like-minded travellers and enjoy the convenience of your own personal Driver and Tour Leader, who will share their local knowledge and take you to sites that mainstream tourists typically miss out on – and by using luxury mini-coach transportation, we can explore each destination in greater depth.
What meals are included?
Breakfast (B) is included daily.

We also include some lunches and dinners, either in our hotels or in local restaurants. These are indicated by L (lunch), or D (dinner) in the itineraries.

You will have some free evenings to try the local cuisine independently.

Please note: dinner times in Europe are likely to be later than you might be used to (7.30pm at the earliest and often later in France, Spain and Italy).
Can you cater for my dietary restrictions?
We will do our best to accommodate your dietary needs. Please ensure that any restrictions are made clear to us at the time of booking so we can pass the information on to our hotels, restaurants and suppliers.
How much spending money should I bring?
Although many meals and entrance fees are included within the price of our tours, you will need to bring spending money to cover non-included meals, drinks and activities.
Are entrance fees to attractions included?
Unlike many tour companies, we include a selection of entrances in our tour prices. Any other entrance fees will be at your own expense.