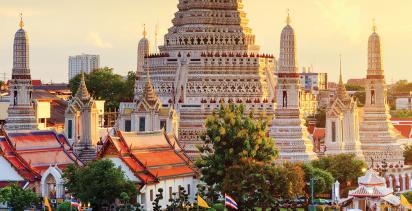 Bangkok Sightseeing Tours
Experience Bangkok with Back Roads
Explore bustling floating markets, revel in quiet contemplation in tranquil temples or indulge in the mouth-watering flavours of Thai street food – Bangkok offers this and so much more. Our small group tours of Thailand take in all the highlights, as well as some surprising hidden gems.
Things to do on our small group tours of Bangkok
Discover the elegant Wat Arun Temple
Imposing, magnificent and surprisingly moving, this Bangkok icon is an absolute must-see during a tour of Thailand. Learn more about the history, marvel at the ornate exterior and explore the elaborately decorated interior on a tour of the temple.
TOUR: Wonders of Thailand
See more
Taste the best street food in Bangkok
No tour of Bangkok (or Thailand, for that matter) would be complete without sampling as much mouth-watering Thai cuisine as possible. We do just that on this tuk-tuk tour of the best markets in Bangkok – savouring the contradictory yet harmonious flavours of authentic street food.
TOUR: Wonders of Thailand
See more