Tour code: BEHHBLE-0
Tour Inclusions
Nights

Meals

9 Breakfasts, 5 Dinners

Hotel

Driver

Tour Leader
Highlights of Britain
10 days
United Kingdom / Wales / Scotland
Max 18 Passengers
Overview
Join us on the back-roads for an adventure that delves deep into Britain's history and culture. In England we'll trace the footsteps of writers and poets, while in North Wales and Scotland, our journey will take in spectacular scenery and dramatic castles. Ready to experience it all?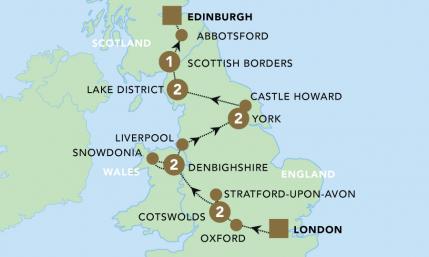 Tour Starts/Ends

1

Overnight Stop
Day Stop
The Back-Roads Difference
Indulge your sweet tooth at the world-famous Pudding Club
Discover Britain's literary greats at the Beatrix Potter's Hill Top Farm and William Wordsworth's Dove Cottage
Explore some of Britain's most spectacular regions including the Cotswolds, Snowdonia National Park, the Yorkshire Dales and the Lake District
Tour Inclusions
Accommodation
9 nights in boutique accommodation
The Crew
Experienced Back-Roads Tour Leader and Driver
Transport
Premium mini-coach transportation
Reviews

15 reviews
11th August 2019

Review rating

the days were relaxed and structured at the same time. the group was small and easy going. David was a great guide.

5th August 2019

Review rating

We enjoyed our tour guide's passion for history ,which helped us to take it all in and our bus driver Chris was such a careful and confident driver that we felt right at ease. We enjoyed making friends and had many laughs on the tour. We thoroughly enjoyed the beautiful accommodation and meals and the places we were taken to. We are already singing the praises of Back-Roads , recommending it to our friends and look forward to seeing more country with Back- Roads in the future.

1st August 2019

Review rating

Great guides, excellent drivers, good and great accommodation.

29th July 2019

Review rating

We did three back-to-back tours (Wonder of Wales, Emerald Isle and Highlights of Britain) and enjoyed them immensely. The highlight was the Emerald Isle tour — our guide and driver worked superbly as a team.

28th July 2019

Review rating

Tour Leader and Coach Driver were both excellent as was our accommodation. I really enjoyed being out on the back roads of England and Scotland instead of busy motor ways. Every day there were unexpected stops in really interesting places as well as the stated places on the itinerary. I particularly enjoyed the gentle pace of the tour and my 12 companions couldn't have been friendlier. Since my return I have been recommending Back Roads Tours to lots of folk. It would be wonderful, if the opportunity ever arose, to take part in another Tour with the company.