Unfortunately this tour doesn't have any dates available. Please check back later as we will have updated departure dates and information here soon.
View a similar tour
Tour code: BEHOHII-0
Tour Inclusions
Nights

Meals

3 Breakfasts, 2 Dinners
Orkney & the Highlands
4 days
Scotland
Max 15 Passengers
Overview
Discover dramatic landscapes, towns steeped in Viking history and ancient sites - whose roots stretch back over 5,000 years - on this fascinating journey through the Orkney Islands and the Highlands of Scotland.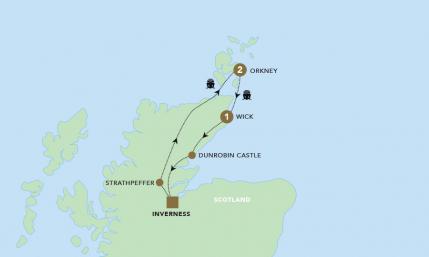 Tour Starts/Ends

1

Overnight Stop
Day Stop
The Back-Roads Difference
Enjoy a two-night stay in Orkney, the home of some of Europe's most ancient sites
Explore the impressive Dunrobin Castle and its gardens
Travel beautiful coastal and countryside roads through the Highlands
Tour Inclusions
Accommodation
3 nights in boutique accommodation
The Crew
Experienced Back-Roads Tour Leader and Driver
Transport
Premium mini-coach transportation
Reviews

3 reviews
28th July 2019

Review rating

The two staff were friendly and helpful, went to many locations that bigger vehicles wouldn't go too. Only criticism was the time of the start of the tour was wrong. We were informed the tour started at 8am and get there 10 to 15 mins before but the tour didn't start until 8.30.

22nd July 2019

Review rating

A bit more expensive than other tours but slower pace and increased hotel comfort where available plus standard of included dinners made it worthwhile

21st July 2019

Review rating

Went to all the right spots. Covered a lot in the time available. We were able to do it at our own pace, never pushed for time.