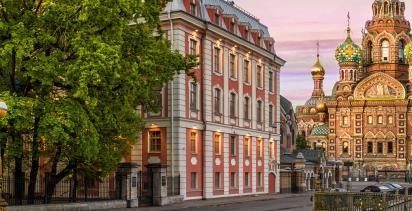 Russia Tours
Explore Russia with Back-Roads
Nowhere on earth captures the imagination quite like Russia, with its picturesque rural landscapes, old world palaces and fascinating museums where you'll lose track of time. Tales of Tsars, revolutionaries and literary heroes come to the fore when you delve into the rich history of this diverse nation. Tour this captivating country with Back-Roads and learn why Russia is a powerhouse of fine art, tradition and contemporary culture.
Our top experiences in Russia
Take a guided tour of St Petersburg
Learn why St Petersburg has earned the title of 'Venice of the North'. Hint: its ornate architecture and idyllic canals might have something to do with it. With tales of imperial and communist periods, your guided tour will bring history to life in fascinating St Petersburg.
TOUR: Highlights of the Baltics
See more
Visit Peterhof Park and Gardens
Experience the grandeur and vision of the old rulers of the Russian Empire as you wander through the gardens of the Peterhof Palace. A UNESCO-listed relic of the Tsars, the royal gardens are known as the Russian equivalent of Versailles.
TOUR: Highlights of the Baltics
See more