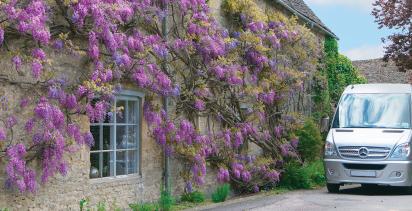 How We Travel
Our Range of Comfortable Transport
Cast thoughts of long journeys spent zipping up and down motorways from your mind. Back-Roads offers a more leisurely touring style that gives you the freedom of travelling in your own vehicle – but with none of the hassle.
Our Vehicles
Luxury Mini-Coach
On the vast majority of our tours, we travel by Mercedes or Mercedes Vito mini-coaches equipped with comfortable seats, air conditioning and large windows for enjoying the view. With the flexibility to go anywhere a car can, we're able to take the scenic route – winding through beautiful countryside to the heart of tiny villages and coastal towns.
Yacht
On our Croatia tours, we take to the water in traditionally designed yachts to explore some of the lesser-known islands off the Dalmatian Coast. Each spacious cabin comes complete with air conditioning and its own en-suite bathroom – making for an extremely comfortable stay. Plus, all of the freshly prepared meals served aboard the yacht are included in your trip price!
Barge
On our canal cruises through the Burgundy and Provence regions of France, we trade in the mini-coach for private barges. These custom built, innovatively designed vessels allow us to access small regional waterways and unspoilt rural scenery – all while offering up spacious sun decks, an on-board Jacuzzi and bicycles for exploring on land.
Train
Scenic train journeys are included on certain Back-Roads tours in Europe. From rides along the spectacular Black Forest Railway in Germany to explorations of the Alps aboard the Bernina Express, these memorable excursions add an extra touch of excitement to our trips – all at Back-Roads' signature leisurely pace.
Gulet Boat
In the Bay of Naples, we sail through some of Italy's most beautiful and historic locations in style: aboard boutique gulet boats. With en-suite air-conditioned cabins and lots of room to relax and unwind, we can take in the mesmerising volcanic landscapes of the Phlegraean Islands from the best possible viewpoint – while enjoying plenty of modern comforts.
Internal Flight
Available only within our portfolio of Asia tours, internal flights allow us to cover ground more quickly in larger countries – and thereby enable us to visit even more carefully selected stops. Internal flights also ensure our guests enjoy a more comfortable travel experience when roads are uneven, busy or difficult to navigate.