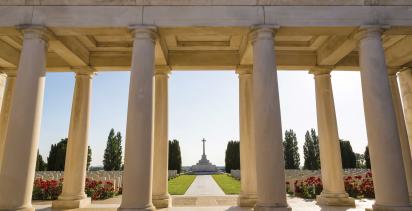 Battlefields Tours
Trace Your Ancestors' Footsteps on Our Battlefields Tours
Expert guides
We have offered our signature Back-Roads Battlefields tours for over twenty years. Each of these moving and memorable tours is led by one of our expert Battlefields Tour Leaders, some of whom are former servicemen and women – and all of whom have a keen interest in (and passion for) history.
Bring history to life
Trace the shifting battlelines of WWI as our guides recount the strategies that brought both victory and defeat to the forces that once fought over the earth where you stand. From Ypres to The Somme and Villers-Bretonneux, you'll have the opportunity to see world-famous battlefields from a soldier's perspective.
Flexible tours
Our small group touring philosophy allows us to be flexible when it comes to selecting the sites we visit. Our Tour Leaders welcome requests to visit locations where guests' ancestors may have fought or been buried. For many, our Battlefields tours are not just educational experiences, but personal ones that allow them to forge a poignant link with the past.
Pay your respects
Our Battlefields tours are journeys of remembrance and respect for the brave soldiers that didn't return home when the guns finally fell silent. During your trip, you'll have the opportunity to pay your respects at monuments like the Menin Gate in Ypres, and to observe the ANZAC Day Dawn Service in Villers-Bretonneux.
All inclusive
The price of our Battlefields tour itineraries is all inclusive of attractions, including visits to the Memorial to the Missing, the Hooge Crater Museum and the Wellington Tunnels. With no entrance fees to take care of, you can be present in the moment at each humbling location we visit on our travels.