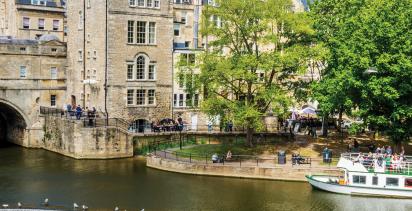 England Tours
Explore England with Back-Roads
From stunning coastlines to countryside views and castles straight out of storybooks, England's grand scenery ticks all the boxes. Uncover the history of this influential nation as you delve into stories of the Roman forces, illustrious royals and literary heroes who left their mark on English culture and traditions.
Our top experiences in England
Experience Roman life in Bath
Nearly 2000 years ago, Romans harnessed natural springs to build a bathhouse complex dedicated to the goddess Sulis Minerva. You'll gain insight into ancient traditions at the well-preserved Roman Baths before exploring the cobblestone streets of this charming city.
TOUR: Heart of England
See more
Visit historic coastal towns in Cornwall
Cornwall captures the imagination with its sweeping sea views and history-steeped villages, such as beautiful St Ives or St Michael's Mount, a tidal island off the coast of Penzance. Another highlight? The fresh-off-the-boat produce you'll get to sample during your stay in Cornwall.
TOUR: Corners of Cornwall
See more