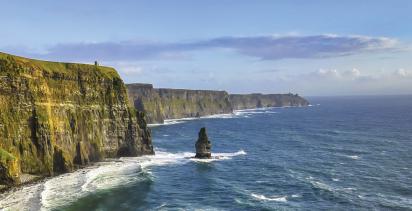 Ireland Tours
Explore Ireland with Back-Roads
The Emerald Isle offers a wealth of once-in-a-lifetime travel experiences from its spectacular coastal landscapes and rolling hills to its charismatic towns and villages. Aside from the endless photo opportunities, you'll discover an island nation proud of its rich heritage and culture.
Our top experiences in Ireland
See the impressive Cliffs of Moher
Rising up to 200 metres above the Irish coastline, the Cliffs of Moher are high on the list for every visitor to Ireland. The UNESCO listed site is home to diverse wildlife from marine animals of the Atlantic Ocean to seabirds that nest at the cliffs.
TOUR: Corners of Southern Ireland
See more
Step into Ireland's past at Kilkenny Castle
Built in the 12th century during Norman occupation, the grand Kilkenny Castle is a must-visit for its impressive interiors and terraced grounds. You'll have time to explore the castle's hidden stories from different eras of Irish history.
TOUR: Corners of Southern Ireland
See more