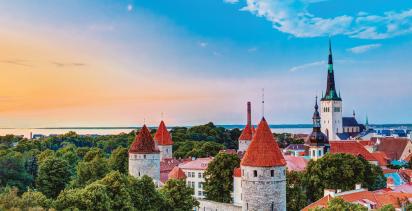 Nordics & Baltics Tours
Explore the Nordics and the Baltics
Your imagination will run wild as you take the road less travelled on a journey through the majestic Nordics and Baltics. Tales of revolutionaries and old world alliances will bring history to life as you wander through historic cities rich in architectural gems. From the scenic fjords of Norway to Russia's culinary legacy, there is much to explore in the magical north of Europe.
Our top experiences in Norway & the Baltics
Take an otherworldly journey on the Flåm Railway in Norway
Welcome to the train journey of your dreams, aboard the captivating Flåm Railway. You won't believe your eyes as you weave through alpine scenery that offers a snapshot of Norway's most stunning landscapes.
TOUR: Norway: Fjords and Glaciers
See more
A History of Glaciers
Remnants of the last Ice Age, glaciers are large thickened masses of compressed fallen snow. You'll learn everything you ever wanted to know about these massive ice formations at the award-winning Norwegian Glacier Museum, which offers a comprehensive look at the subject, from the Ice Age to present-day climate change.
TOUR: Norway: Fjords and Glaciers
See more