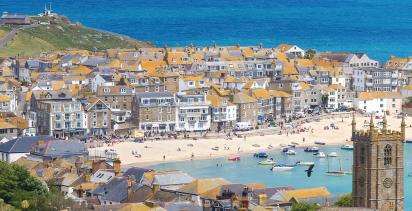 Back-Roads Europe Tours
Our small group Europe tours
From azure coastlines to alpine landscapes, captivating cities and secluded villages – fulfil your life-long travel desires on a Back-Roads Europe tour.

Enjoy uplifting journeys through the evocative landscapes of Scandinavia and the Alps. Savour the rich flavours of Spain and admire the sun-soaked architecture of Italy. Relish the historic elegance of Western Europe and uncover the hidden gems of the East. Each unique European country offers unforgettable experiences – and with a small group of like-minded travellers, you'll find that a journey shared is a journey best enjoyed.

On a Back-Roads European tour, we'll slow the pace and appease our curiosity with exclusive local experiences. From learning traditional crafts on the Amalfi Coast and unravelling centuries-old stories along the Camino de Santiago, to sampling exquisite local wines at a Tuscan villa or touring a historic home in the Baltics – there's no better way to understand the essence of a destination than venturing off the tourist trail and taking the time to enjoy every step of the journey.

Experience the Back-Roads difference on a small group Europe tour, today.
Experience Europe on a Back-Roads group tour
Top sights and exclusive local experiences
Bask in the wonders of Lake Maggiore on a scenic boat tour
Leave bustling cities and overcrowded attractions behind on an indulgent tour through northern Italy's hinterland. Here, you'll set sail on the picturesque waters of Lake Maggiore – uncovering the enchanting Borromean Islands along the way. A charming collection of islets tucked in the western corner of this lesser-known top site, there's plenty of time to explore Isola Madre, wander the ornate Baroque garden on Isola Bella and discover the pretty harbour of Isola dei Pescatori before returning to shore.
TOUR: Italian Indulgence
View tour
Savour the distinct flavours of Croatian cuisine in Korčula
Long, hot summer days and rugged seaside landscapes make for particularly sublime gastronomic delights featured on menus along the Dalmatian Coast. Uncover the age-old secrets behind traditional Croatian food – and lesser-known local favourites – with a private cookery class on the medieval island of Korčula. An unquestionable top site in Croatia, here you'll hone your culinary skills with a small group of like-minded travellers, discover the unique flavours of the region and indulge in your creations paired with a glass of crisp Croatian wine. Živjeli!
TOUR: Croatia & The Dalmatian Coast
View tour
Discover the essence of Spain whilst staying in historic hotels
East meets west and past meets present; archaic cities and charming old towns; rolling hills and rugged coastlines – Spain is as unforgettable as it is diverse. Experience the historic charm of Spain's must-see destinations by staying in hand-picked, character-filled accommodation. Leave the tourist trail behind as you step over the threshold of renovated 19th-century mansions in Granada, ancient noble houses on the doorstep of Córdoba's top sites and historic hotels surrounded by the Andalusian mountains. There's no better way to get to the heart of each captivating destination.
TOUR: Iberian Inspiration
View tour
Explore trending European destinations