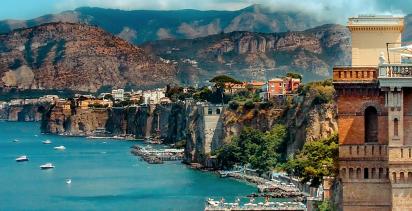 Back-Roads Italy tours
Explore Italy with our small group tours
Embark on a journey through ancient cities and idyllic rural landscapes. Uncover the stories of civilisations past, marvel at architectural feats, and immerse yourself in a proud and enduring culture. Our small group tours of Italy cover the breadth of this enthralling country; which region to discover first is up to you.

Northern Italy is a treasure trove waiting to be explored. Opulent houses line the labyrinth of canals in Venice. Colourful seaside retreats perch along the sparkling coast of the Cinque Terre. Grand villas frame the glittering waters of Lake Como and Lake Maggiore. And Juliet's balcony awaits in the medieval centre of fair Verona.

In Italy's heartland, discover the astounding classical landmarks of Rome, and the reverent grandeur of Vatican City. Wander the hallowed hilltop town of Assisi, the birthplace of St Francis. Soak up the iconic sights (and famed wines!) of Tuscany, including the alluring cities of Florence, Siena and Lucca. And, of course, gaze upon the legendary Leaning Tower of Pisa.

The cinematic Amalfi Coast encapsulates the charms of Southern Italy, where sun-kissed villages flank azure Mediterranean waters. Nearby, the ancient city of Pompeii reveals the destruction wrought by Mount Vesuvius, and handsome Naples welcomes with its abundance of extraordinary art. And at the very tip of Italy's boot, the compelling island of Sicily captivates with its unique heritage and spellbinding scenery. Uncover all this and so much more with Back-Roads tours; bella Italia is awaiting your visit.
Not-to-be-missed on your Italian tour
Delve into the glorious Amalfi Coast
Extending along rugged mountains, pebble beaches and the glimmering Tyrrhenian Sea, the dramatic Amalfi Coast is a true Mediterranean gem. Discover the delights of the precariously perched fishing villages nestled in its cliffs, like the acclaimed restaurants and quaint boutiques of pastel-hued Positano. And be enchanted by the sun-soaked island of Capri, with its elegant piazza, charming funicular railway and crystal clear, luminescent waters of the Blue Grotto sea cave.
TOUR: Italian Indulgence
View tour
Discover the blissful Italian Lake District
Offering sweeping panoramas of both snow-capped Swiss Alps and verdant Italian countryside, the ethereal beauty of Northern Italy's lakes cannot be overstated. Admire the refined botanic gardens and picturesque harbours of Lake Maggiore's tranquil islands. Marvel at the ornate splendour of Lake Como's settlements, like the stunning waterfront villages of Bellagio and Varenna. And soak in the scenery that served as the backdrop for Bond's antics in Casino Royale, and inspired George Clooney to take up residence in the area. Who can blame him?
TOUR: Italian Indulgence
See more