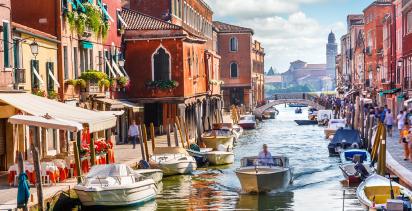 Italy Tours
Explore Italy with Back-Roads
Welcome to Italy, a captivating nation with a rich tapestry of architecture and iconic attractions to be discovered. Seek out the hidden treasures in breathtaking Italian cities from Florence, the jewel of Tuscany, to the eternal city of Rome. Whether it's the islands of Sicily, historic Pompeii or Ponza in the Bay of Naples, you'll experience an authentic taste of Italian culture. Indulge in local food delicacies and savour the fine wine as you journey through this life-changing European country.
Our top experiences in Italy
Explore the Tranquil Valle dei Templi in Agrigento
The well preserved archaeological site of classical culture in the South of Italy, granted Unesco world heritage status in 1997. These towering dedications to the Greek Gods represents great history of the Greco-Roman age. On our Splendours of Sicily tour we will have the opportunity to view the impressive architecture that has been kept so beautifully for many years.
TOUR: The Splendours of Sicily
See more
Truffle Hunting through Local Farmland
We start our morning in fresh woodland in Cherasco where we will be guided by a local expert in finding a great delicacy. Before we enjoy the seasonal white gold, take the opportunity to learn about the tradition of hunting for the much desirable treat.
TOUR: Italian Indulgence
See more