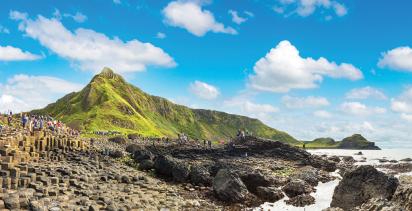 Northern Ireland Tours
Explore Northern Ireland with Back-Roads
Rich in heritage and promising no shortage of natural wonders, Northern Ireland has much to offer travellers who seek out the road less travelled. From breathtaking coastal roads and foodie delights to castles and museums in Belfast, this unique nation is sure to impress.
Our top experiences in Northern Ireland
Explore the ancient Giant's Causeway
Northern Ireland's coastline is home to the UNESCO heritage listed Giant's Causeway, a natural phenomenon closely linked with Irish mythology. Walk over the step-like rock formations that look like a mystical staircase trailing off into the sea.
TOUR: The Emerald Isle
See more
Discover Belfast's History and Political Murals
A Black Cab Tour awaits in Belfast, where a local guide will offer insight into the complex history of The Troubles. You'll gain an understanding of the 20th century conflict in Northern Ireland and see the city's famous political murals that tell their own stories.
TOUR: The Emerald Isle
See more