Walking The Battlefields with Mark Banning
When did your fascination with the Great War first begin & what inspired you to become a battlefield guide?
I'm often asked this and will give you the same reply I have always given. It must have begun when, as the oldest of four children, we were always made to wear poppies in November, and, from my dad especially, this story of his father emerged each time. (I've shared that with you before) I think that there was a slow sub conscious absorption of this and other things related to war in general that many of my generation accepted as we grew up: Action Man, Commando comics, Airfix kits, but this tended to be more World War 2 than the Great War.

It wasn't until I was at VIth Form College and involved in a production of 'Oh! What a Lovely War!' that I began to become further fascinated. My A level History course stopped in 1914, so I could see why it happened, but once it started, I was a bit 'at sea' with the chronology.

The Great War fascination must have been just awaiting a flame to the touch paper, and that came in the most curious way. My father found a copy of Before Endeavours Fade in the road outside his house. The finding of this has always been a bit of a mystery, but it showed the pictures and places of the Western Front, including Ypres and the now very familiar Brooding Soldier Memorial at Vancouver Corner. We arranged a trip to Ypres, just he and I, and spent a great couple of days following this book and stopping where we felt like. We had no real sense of chronology or the units involved, but it didn't matter. That was the hook.

Move forward a good few years and to a job that wasn't working for me. I decided it was time for a change: I did my research, spoke to a few people and found out about Backroads Touring, who I still have a very good working relationship with. That was in 2008… The rest, as they say, is history.
Is there a particular battlefield or spot that stands out personally to you or holds some special significance?
Vancouver Corner and the area of the Gravenstaffel Ridge, is one, for the above reasons but just about anywhere on the Somme really gets me. I think it is the enormity of the tragedy that unfolded there, and I don't mean just on 1st July either; that you can visualise it now, with the benefit of hindsight. I see the villages and landscape as I think they would have been, not as they are now. It is also a very beautiful part of France, and once away from the often-visited areas, it is incredibly empty and battlefield visitors are infrequent. The area around Cambrai also has these benefits.
Being in such a fortunate and unique position to have walked in the footsteps of these heroes, you must have a great understanding of the harsh reality of life in the trenches.
Far from it. I've never marched miles in the rain or heat, with ill-fitting webbing and 60lbs on my back. I've never dug a trench; I've never been shot at, shelled, had gas sent against my position, gone out on a trench raid, eaten cold bully beef for days on end, drunk tea tasting of petrol, had lice in my clothes and had food stolen by rats. I've never lost close friends, never seen horrific injuries inflicted on people or been so tired I could fall asleep standing up.

I am proud to remember these men, share their stories, see the scenes of their actions, but I can never know what it was like – I wasn't there.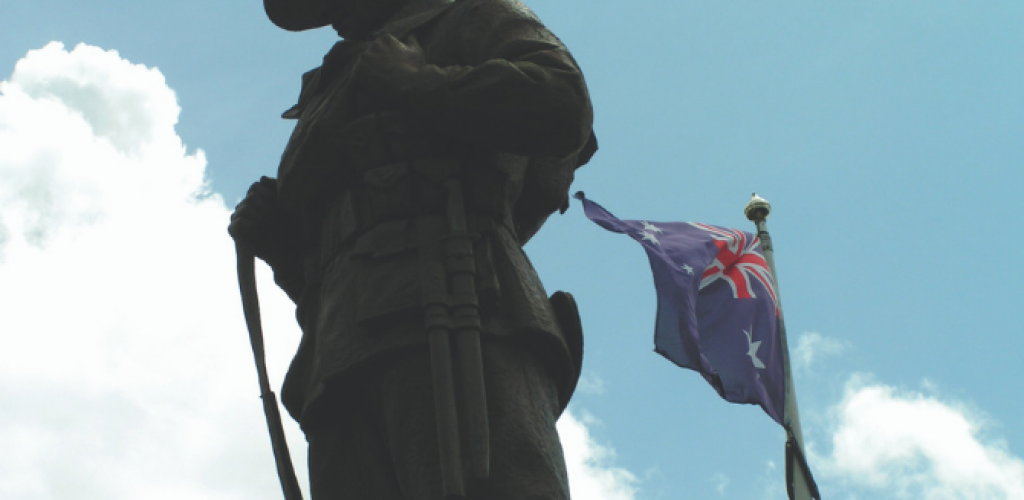 During all the time you have been guiding, have you ever met any of the returning veterans?
When guiding, no. However, I count myself very privileged to be part of a group of friends that travel to the battlefields twice a year and who have done so since the mid 1980's. The group has its origins in trips run by P&O Ferries, who asked Lyn Macdonald to be the guest presenter.

One of the 'selling points' is that Lyn, who was in the middle of writing her series of books on the Great War, would be the host and guide, but, with the support of many others, it must be acknowledged, she would also try to bring 'her' veterans on the trips.

My first trip with the group, to Ypres in 1998, had six veterans on it, including Robbie Burns, who fought at Loos and Arthur Halestrap. As time went on, nature took its course, and the last veteran to travel with the group was Arthur, to Ypres in 2003 for Armistice. I did have the pleasure of being on trips with Harry Patch, as well as Bill Stone, RN, Leslie Timmins and Jack Davis. You must remember that these were old men, although very often the mind was much more alert than the body. Your greatest concern as a member of the group was to ensure their good health and allow them the time they need – and that is in every department.
Having walked the battlefields, cemeteries and memorials for such a long time, does it still stir the same emotions as your very first visit?
Absolutely, yes. I always say, the day I think, 'not Vimy Ridge/ Thiepval/ Last Post again' is the time to stop. I get goosebumps every time I see the Thiepval Memorial to the Missing of the Somme from Redan Ridge, or in fact, from anywhere. I take my holidays on the battlefields and go there with friends when not working. And, there are so many places I have yet to visit. On a trip to the Somme in 2011 with friends, the only place I had visited in our three-day trip was Thiepval – my wife was somewhat amazed that there was still new stuff to see, but there always is. And seeing familiar places in the company of different people can create all sorts of different feedback and feelings.
How much fascination and interest is there still in this conflict that dates back now almost a century?
In my mind, the centenary of the Great War is going to increase the number of visitors, perhaps at times to unmanageable levels, in popular spots. This is due to the greater awareness of what happened, the greater accessibility of the battlefields and the desire for many to do what they believe to be right and come and see things while they can.
Documentaries, the internet, TV programmes such as 'Who Do You Think You Are?', are all contributing to a latent awareness that I think we all have to discover our past. This doesn't necessarily kick in for many people until they are of a certain age, largely due to family and work pressures, so I think the fascination will be there for all time, to be honest.
Have you ever considered doing or have done any Second World War related historical sites?
I have visited parts of Normandy, Dieppe, Dunkirk and Arnhem. These are all fascinating places and with great stories of courage and triumph or not, as the case may be. However, and with the greatest of respect to another remarkable generation of men, they don't quite do it for me as the Western Front does. I don't know why that should be, but it is.
With the centenary of the start of the First World War now almost upon us, do you have much planned to commemorate its anniversary?
I am fortunate enough to work with a company who appreciate the importance of events such as the centenary, although that could be purely for business reasons. However, I do feel that the next few years will see an ever increasing number of guests from around the world wanting to be at certain places at certain times. Although not in my area of knowledge, the problems that the Australian Government has already recognised in terms of the number of expected visitors to Gallipoli in 2015 is evidence of this.
However, I am not a great fan of the 'big event'. Last Armistice Day, while many were standing cold and immobile under the Menin Gate, I and three other friends walked from Ypres up the Menin Road. We stopped at Birr Cross Roads Cemetery at 11.00 am. Another British couple were the only other people there, and although we chatted to them afterwards, we all had our private two minutes of reflection that were special to us. To me, that was as good as it could get, but I would not be surprised to find that I was involved in some of the major commemorative events in some form or other from 2014.