5 Simple Recipes From Around The World
Looking for some culinary inspiration?
From the exotic flavours of Spain to the comforting staples of Ireland, the decadent dishes of Italy and the traditional deserts of bonnie Scotland – feed your curiosity, excite your taste buds and fill your tables with some unique dishes from the United Kingdom and Europe.  
Flavio's Classic Carbonara
If you don't know your pasta al dente from your carbonara sauce, then you need to meet Italian food lover and Back-Roads Touring Tour Leader Flavio Lazzaretto. Passionate about his country and exploring with Back-Roads Touring passengers, this would have been Flavio's 6th season leading our Italy tours.  
'Growing my passion for travelling and inspiring other people is the main reason why I love working as a Tour Leader'.  
Flavio's passion for food came from his parents who shared the love of Italian recipes with him from a young age.  
'My parents worked very hard and for long hours when I was a young boy, and I had to learn to be independent also in the kitchen. 
'Nevertheless, Italian cuisine is so varied and prepared with fresh ingredients that is always a pleasure to cook, even for myself but it's always better if friends are coming over.' 
Bring the flavours of Italy into your home tonight with Flavio's favourite Italian dish – the carbonara.  
Make your own 
Ingredients: 
½ kg spaghetti  
½ onion 
4 eggs 
200 g guanciale (dry cured pork cheek) or bacon 
Salt and pepper to taste 
Fill ¾ of a big pot with water and bring to the boil, adding a pinch of salt when it's boiling. Then cook the spaghetti in it (al dente of course, as you want the pasta to remain firm).  
 In a frying pan, cook the thinly sliced onion with olive oil. Use a high heat to fry the onion until it's almost black (the word carbonara comes from this carbon colour). 
Once the onion is ready, add the pork or bacon (previously diced) and cook until browned.  
While the meat is cooking, whisk the eggs in a mug and add salt and a generous pinch of pepper. 
 Strain the spaghetti and add the pasta in the pan with the bacon and onion. Mix everything on a high heat before turning off the heat. Then: stir the eggs in the same pot, add parmesan (or pecorino cheese) and a bit of pepper. Voilà! Mix and serve on warm plates. Serves 4.  
Wine notes: Serve with a full-bodied (but not too strong) red wine, like a Chianti Riserva or Valpolicella Ripasso.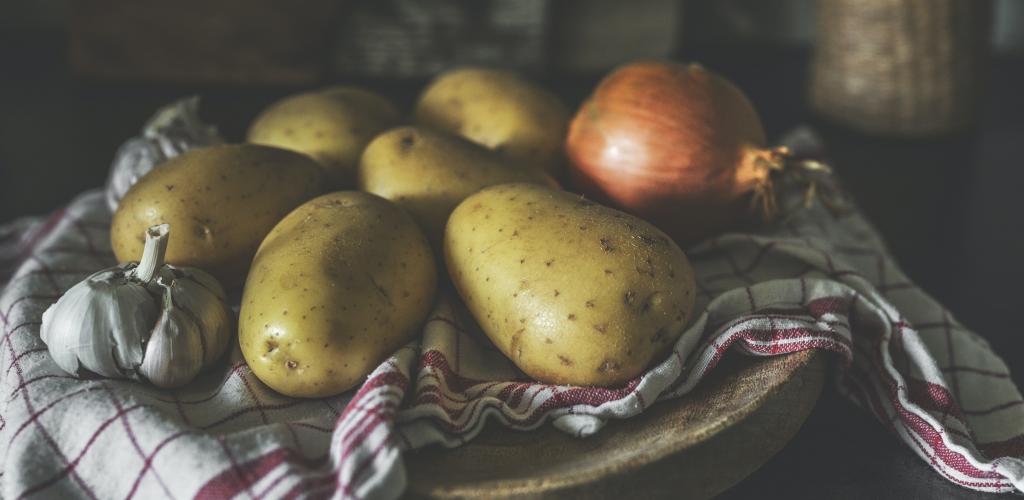 The Irish Boxty
'Boxty in the griddle, boxty in the pan, if you can't make boxty, you'll never get a man' – although a somewhat outdated rhyme, this saying provides some insight into the cultural importance of the boxty in Ireland.  
Paying tribute to the country's national food – the potato, a boxty is usually made with 70% potato and 30% other ingredients. Its name comes from the Irish arán bocht tí, meaning 'poor house bread' and dates to before the famine times.  
There are various methods of cooking a boxty, including baking like a loaf in the oven, boiling as a dumpling or, the most common, frying in a pan in a pancake-like style. You'll often find the boxty within a full Irish breakfast or as a farl (cut into four triangular pieces for serving). 
As interest in traditional cuisine increases, restaurants are creating their own interpretations of this Irish staple – adding spices, filling with beef or using it like a tortilla. Some pubs in Belfast are even hosting Boxty and Beer nights where the humble boxty is used as a pairing with local beer and wine.  
Try your hand at this household staple next time you sit down for a full Irish breakfast or serve with spring onions and a dollop of sour cream.  
Make your own 
Ingredients: 
1 ½ cups of grated raw potatoes 
1 cup of all-purpose flour 
1 cup of leftover mashed potato 
1 egg 
1 tbsp skim milk 
¼ cup of olive oil 
Salt and pepper to taste 
Toss the grated potatoes with flour in a large bowl. Stir in mashed potatoes until combined.  
In a separate bowl, whisk together the egg and skim milk; mix into the potatoes. Season with salt and pepper.  
Heat the olive oil in a large skillet or fry pan over medium-high heat. Drop in the potato mixture, forming patties about 2 inches in diameter.  
Fry on both sides until golden brown, 3 to 4 minutes per side. Drain on a paper towel-lined plate. Serve warm.  
Traditional Swedish Apple Cake
Fika. More than simply having a coffee, the social concept of Swedish fika is the act of setting aside a moment of quality time within your day to relax or socialise. It can happen at any time, morning and evening, and savoured at home, at work, or at a café – and is often paired with a deliciously warm cinnamon roll or decadent kladdkaka cake. 
A word derived from the Swedish word for coffee (kaffe), the act of taking a coffee break soon became deeply rooted in 20th century popular culture as soon as coffee was no longer prohibited by the government. Today it remains as a strongly defended social phenomenon enjoyed by the Swedish people as a way of socialising with friends, colleagues or – as many romances start in Sweden – with a stranger you've exchanged phone numbers with the night before.  
And what's the perfect sweet treat to accompany your afternoon fika at home? A traditional apple cake, of course! 
Make your own 
Ingredients: 
125g butter (room temperature) 
125g white sugar 
2 eggs 
150g plain flour 
1 tsp baking powder 
1 ml salt 
2 tbs milk 
3-4 apples 
Apple coating: 2 tbs white sugar combined with 2 tbs ground cinnamon  
Preheat the oven to 200°C. Grease a round baking pan and coat with breadcrumbs.  
Add butter and sugar together in a large mixing bowl. Whisk together until fluffy, using an electric whisk if available.  
Add eggs one at a time and whisk together with the butter mixture.  
Fold in flour, baking powder and salt. Stir to combine.  
Add milk and stir into a smooth paste. Pour into the pan.  
Peel, core and slice the apples into sections. Turn them in the sugar and cinnamon mix and place them in the pan with the mixture.  
Bake for about 30 minutes. Test with a skewer or toothpick to see whether the consistency is right. If the skewer is dry when you pull it out, the cake is ready.  
Leave on a cake rack to cool. Serve with a handsome dollop of cream.  
A Favourite Spanish Tapa
Few could argue that there is something profoundly satisfying about enjoying a small snack alongside a cold drink, whilst soaking up the warmth of the summer sun. Spanish tapas have taken the world by storm thanks to the ease of integrating into most culture's pre-existing practise of serving savoury snacks with drinks. And so popular has this style of eating become that tapas have been elevated from a simple bite to Michelin-starred dining.  
The Spanish custom of tapas varies between different regions – you would have a very different experience eating tapas in Barcelona than you would in Granada. But a tapa is universally a small portion of food that the Spanish would eat in bars before their dinner or lunch. Most common foods eaten as a tapa are cured meats like jamón Iberico, chorizo, olives, cheese and cooked dishes such as tortilla de patatas or meatballs in tomato sauce.  
A tapas staple that you'll find on most Spanish bar menus is the iconic patatas bravas. And it's incredibly easy to prepare at home.  
Make your own 
Ingredients: 
900g potatoes, cut into small cubes 
2 tbsp olive oil 
1 onion, chopped 
2 garlic cloves, chopped 
Canned chopped tomatoes or tomato puree 
2 tsp paprika 
Pinch of chilli powder 
Pinch of sugar 
Heat the oil in a pan and fry the onion until softened.  
Add garlic, chopped tomatoes/tomato puree, paprika, chilli powder, sugar and a pinch of salt. Bring to the boil, stirring occasionally.  
Lower the heat to a simmer and cook until the sauce reduces to a pulpy texture.  
Heat oven to 200°C. Pat the chopped potatoes dry with kitchen paper, toss in olive oil, then tip into a roasting tin.  
Roast for 40-50 minutes until crisp and golden.  
Tip the potatoes into a serving dish and spoon over the tomato sauce.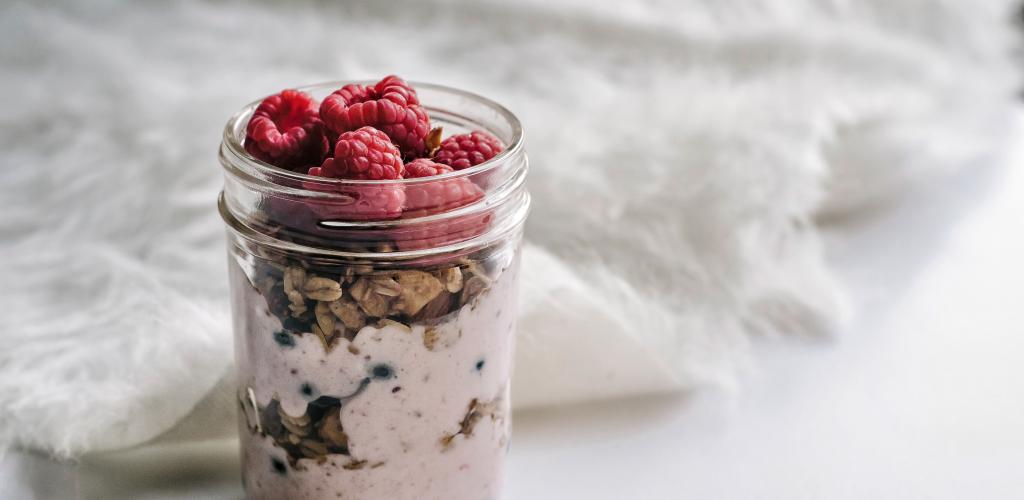 Scotland's National Desert
A breakfast staple-turned-nationally-acclaimed-desert, the Scottish cranachan (crah-nuh-kun) has evolved into a contemporary desert found on most restaurant menus across Scotland. The modern day cranachan bears only a slight resemblance to its humble origins – appearing as a breakfast meal consisting of crowdie (a traditional Scottish cheese), oats and heather honey.  
Over time, whisky and raspberries were added into the mix and the meal was turned into an after-dinner treat to celebrate the beginning of harvest. Nowadays, chefs will often replace the rare crowdie cheese with freshly-whipped cream and it's not uncommon to see cranachan served with orange, chocolate or rum.  
Bring a little of the highlands into your kitchen with this simple, yet delectable, Scottish desert.  
Make you own
Ingredients: 
40g pinhead oatmeal 
Few drops vanilla essence  
300ml double cream 
2 tsp Scotch whisky 
1tsp Drambuie 
2tsp heather honey 
225 Scottish raspberries (or any seasonal fruit available) 
Toast the oatmeal in a frying pan and allow to cool. 
Whip the cream to a soft peak and add toasted oatmeal, honey, vanilla, whisky, Drambuie and raspberries.  
Fold ingredients together gently. Serve in a tall glass with the extra raspberries sprinkled on top.