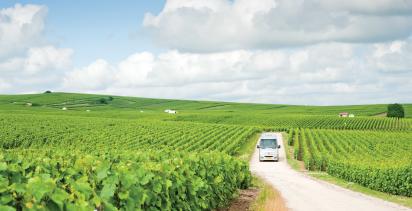 FAQS - Accommodation
Are triple rooms available?
Unfortunately we are unable to offer triple rooms.
Can I request a ground floor room?
The majority of the hotels we use have limited or no ground floor rooms. If you require a ground floor room, please request it in advance and we will try our best to arrange it for you.
Do the hotels have lifts (elevators)?
Most of the hotels we use do not have lifts. For this reason, we recommend that you only join a Back-Roads tour if you are able to walk upstairs unassisted.

We may need you to fill out a self assessment form if you advise us of any mobility requirements.
Do we dine at the hotels?
Breakfasts will be served in our hotels throughout the trip.

Included evening meals come in the form of a three-course dinner, either in our hotel or at a local pub or restaurant. Please note that drinks will not always be included.
What kind of room should I book?
At the time of booking, you will need to specify whether you would like a twin room (two single beds) or a double room (one standard-sized bed for two people). Room types are not interchangeable.
What grade of hotel do you use?
We use a 3-star/4-star standard of accommodation ranging from country inns to town centre hotels (and the odd castle!). Rather than going by the official grading (based solely on facilities rather than the standard of the accommodation), we base our choices on quality, charm and character.

In all hotels, the rooms have en-suite bathrooms.
What else should I know?
Many of the traditional accommodations we use are historic buildings that have been converted to hotels.

Often the rooms are different shapes and sizes, and some may be smaller than you might be used to in newer chain hotels.

Most of our hotels do not have lifts or air conditioning. In many cases, this is due to regulations concerning 'listed' (protected) buildings. However, guests will be offered fans during periods of hot weather.
Is porterage included?
Porterage is included wherever possible.