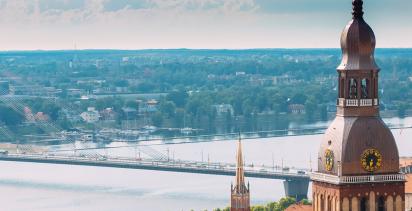 Latvia Tours
Explore Latvia with Back-Roads
An intricate patchwork of dense forests, pristine lakes and wide, sandy beaches, Latvia's unspoilt natural beauty is nothing short of captivating.
After you experience the romantic capital city of Riga, there's spectacular vistas and abundant wildlife waiting to be discovered. Touring this fascinating country with Back-Roads is to step into a place seemingly untouched by the destructive effects of the modern world.

Our top experiences in Latvia
Taste local berry wine in Ligatne
On our travels through the Latvian countryside we'll stumble upon sleepy Ligatne, a town that's home to a delightfully quaint and cosy winery. After meeting the knowledgeable winemakers, we'll have the chance to taste delicious tipples flavoured with strawberries, raspberries, blackcurrants and more.
TOUR: Highlights of the Baltics
See more
Visit the spectacular Rundale Palace
Built for the Duke of Courland in the 18th century, the grand Rundale Palace is one of rural Latvia's architectural treasures. On our Highlights of the Baltics tour we'll have the chance to stroll some of its impressive rooms and beautifully kept gardens, which were inspired by those at Versailles.
TOUR: Highlights of the Baltics
See more