Tour code: BEHGHMM-0
Tour Inclusions
Nights

Meals

7 Breakfasts, 4 Dinners

Hotel

Driver

Tour Leader
A Journey through Germany
8 days
Germany
Max 18 GUESTS Passengers
Overview
Follow the course of true love along the Romantic Road on this picturesque journey through Germany - where the snow-capped Bavarian Alps provide a dramatic backdrop to half-timbered chalets and fairytale castles.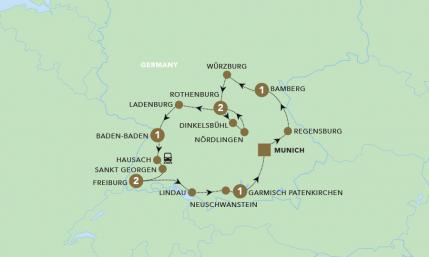 Tour Starts/Ends

1

Overnight Stop
Day Stop
The Back-Roads Difference
Enjoy a beer tasting at Weltenburg Abbey, the world's oldest monastic brewery
Travel through breathtaking scenery along the Black Forest Railway to Sankt Georgen
Learn the history behind Black Forest gâteau - and indulge in a tasting
Tour Inclusions
Accommodation
7 nights in boutique accommodation
The Crew
Experienced Back-Roads Tour Leader and Driver
Transport
Premium mini-coach transportation
Reviews

5 reviews
12th August 2019

Review rating

We enjoyed our tour but too many people for the size of the small bus

5th August 2019

Review rating

Content of tour, guide and driver were all excellent. BUT cramming 19 people into the bus was awful. There was no knee room between the seats, no proper lumbar support and you need some kind of cloth seating under your bum to stop sliding down under your seatbelt. It felt like cattle class in a cheap economy airline - and I was not the only one to feel this! Take a row of seats out and content yourselves with a max of 16 in the bus.You will have more contented travellers. I won't do another tour with you and have passed my comments on to my travel agent.

1st August 2019

Review rating

I found that the tour seemed to be 'unprepared'. It didn't appear that the tour leader had done this trip before and fumbled along the way. I was often left disappointed about the places we visited due to lack of information. It was if she was also a tourist learning things as we went on. Often the bus driver and the tour leader quarreled openly about parking or the best route to take. We weren't given much time in some towns to have lunch and a look around - you did one or the other. We often arrived after 6.00pm to our hotels, not giving us anytime to prepare for dinner. On our 'free' nights there were no recommendations for places to eat or visit, we were left to find out things ourselves. The locations where lovely and so was the hotel accommodation in general. The bus was very cramped and uncomfortable especially if you had to sit in the back seat as we did on many occasions. There was no rotation system in place, so it was first in best seated. There was no rubbish provided and we only found out there was water in the front on the last day. One morning, I actually saw the bus driver sitting on our suitcase whilst having a cigarette! One tour was on a train, which turned out to be a normal passenger train and the group was scattered all over. When we did get off, there was no bus, apparently held up in traffic, we ended up walking up hill to the town centre which was deserted, then back down again to meet with the bus. Quite a track for those with knee problems! I was very disappointed in general with this tour and would not recommend it to any of my friends.

22nd July 2019

Review rating

Provision of complimentary drinks with included meals would have been a nice gesture given the cost of the tour. The (mini) bus had luggage on a seat due to full numbers which required 4 people seated on last row which was not ideal for comfort.

21st July 2019

Review rating

Covered a lot during the Tour.