Tour code: BSLMS4
Tour Inclusions
Nights

Meals

9 Breakfasts, 2 Lunches, 3 Dinners
Adriatic Discovery: Northern Italy, Slovenia and Croatia
10 days
Italy / Slovenia / Croatia
Max 18 Passengers
Overview
Join us as we travel the back roads through plunging gorges and soaring mountains; discovering clifftop fortresses and Riviera-style villages; tasting delicious local wines and savouring countless regional specialities along the way. This journey through Northern Italy, Slovenia and Croatia captures the beautiful diversity of these three mesmerising countries and is sure to be one to remember.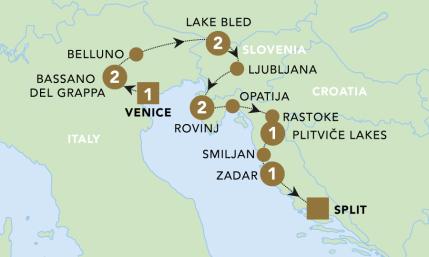 Tour Starts/Ends

1

Overnight Stop
Day Stop
Tour Highlights
Savour a unique wine tasting experience at the Poli Grappa Museum in Bassano del Grappa
Take in the scenery on a traditional pletna boat across Lake Bled in Slovenia
Explore the beauty of Plitvice Lakes National Park, a UNESCO World Heritage Site
Tour Inclusions
Accommodation
- 9 nights in hand-picked accommodation
The Crew
- Experienced Tour Leader and Driver
Transport
- Premium mini-coach transportation
Reviews

5 reviews
4th August 2023

Review rating

Fantastic trip, saw some wonderful places, our tour guide Flavio was very knowledgeable, had a good sense of humour and gave us lots of great advice in regards to the local culture and language. Having travelled extensively he understood the Aussie sense of humour which was great. Flavio also provided us with information about our accommodation and ideas for things to do and other places to visit in our spare time. Accommodation was very satisfactory. Our driver Dragan was always smiling and good to talk to and gave us great information on his country. We had really hot weather on our tour and Dragan our driver ensured the bus was nice and cool when we returned as well as having bottles of water on hand. Had a wonderful group of people on our tour which was an added bonus. This was our first time to Europe and didn't know what to expect, we had a wonderful time and would highly recommend a Backroads Tour to other people and we will definitely be doing another Backroads Tour (or two) in the future.

3rd August 2023

Review rating

Excellent choice of attractions, knowledgeable tour leader and run with military precision.

11th July 2023

Review rating

The choice of places to visit on the tour was excellent. The guide was excellent in his knowledge of the history of the places we visited. He also had some great recommendations of places to eat. The driver was careful and drove with great care at all times. The bus was lacking in that the seats were very narrow and there was very little leg room between the seat and the back of the seat in front. The tray tables did not work properly and many of the seat belts did not function well. The heater on the floor of the bus was on the whole time as well as the air conditioner to cool the bus down. I am not clear on why this could not be resolved. There also was no first aid kit on the bus. Overall the accommodation was excellent with the exception of the final place. the group meals were excellent with the exception of the farewell dinner.
Read all 5 reviews