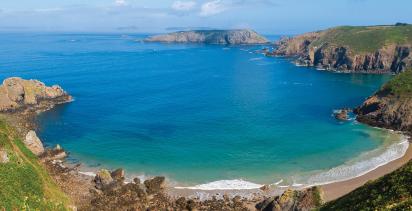 Channel Island Tours
Explore the Channel Islands
The islands of the English Channel are located off the coast of Normandy, each one with its own unique character. Often unexplored by travellers, Jersey Island, Guernsey and the Channel Islands reward visitors with their rich history, stunning beaches and culinary favourites steeped in French influence.
Our top experiences in the Channel Islands
Visit the only part of the British Isles occupied during WWII
Discover the stories of the Channel Islands' five-year occupation during WWII and the long-awaited liberation in May 1945. The German Occupation Museum in Guernsey allows visitors a glimpse into life on the islands during the war.
TOUR: London to Paris via the Channel Islands
See more
Step back in time on the island of Sark
Visit the unspoilt island of Sark, where cars are banned and rugged coastlines are waiting to be explored on foot (or by charming horse-drawn carriage). Known as the world's first 'dark sky island' for its views of the stars at night, Sark continues to inspire travellers in search of untouched nature.
TOUR: London to Paris via the Channel Islands
See more