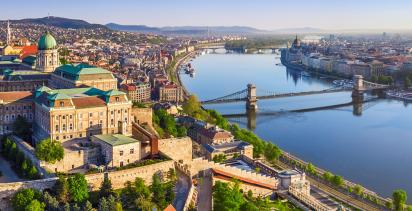 Hungary Tours
Explore Hungary with Back-Roads
Follow the winding Danube River and you'll soon discover a trail of Hungarian treasures from mineral spas to famous wine regions such as the Tokaj valley and the elegant town of Eger. With its fascinating history and cultural traditions to immerse yourself in, Hungary is sure to leave a lasting impression. Hungary's national cuisine will soon become another fond memory, with its fried lángos bread, paprika-spiced goulash and delicious layered desserts. A hearty visit to the capital city, Budapest, and the picture-perfect Hungarian countryside awaits…
Our top experiences in Hungary
Visit Hollókő, UNESCO World Heritage Site
Step into a forgotten era at the Old Village of Hollókö and experience rural life before the agricultural revolution in Hungary. We'll enjoy a performance by the traditional Hollókő Women's Choir while tasting authentic Hungarian dishes for lunch.
TOUR: Explore Eastern Europe
See more
Taste Hungary's finest wines in Tokaj
After a drive through the picturesque Tokaj region, we'll be in the prime position to taste Hungary's world-famous sweet wines. The long tradition of wine making in Tokaj makes this a region not to be missed.
TOUR: Explore Eastern Europe
See more