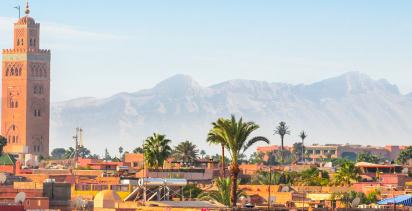 Morocco Tours
Explore Morocco with Back-Roads
Find yourself strolling through the 'old original city' that is Casablanca in all of its authentic glory. Journey through the foothills of the southern slopes in Ait Ben Haddou - explore the road less travelled. Enjoy the muted surroundings within the captivating mountain air.
Our top experiences in Morocco
Cooking lesson: Traditional tagine in Ait Benhaddou
Roll up your sleeves as our local expert reveals all behind cooking the perfect tagine. Smell the great Moroccan cuisine, simmer the local produce and taste the fruits of our labour before we head off to the beautiful city of Marrakech. Take home a flavour of your trip and extend your Moroccan authentic cooking skills at home.
TOUR: Majestic Morocco
See more
Journey through the Moroccan desert
Venture into the deep desert in a 4x4 on route to our accommodation for the evening. Feel the heat of the Sahara as you glide through the sandy landscape on route to our destination for the night in Merzouga. Tonight we will camp in the open land and enjoy the peace and tranquility that surrounds us.

TOUR: Majestic Morocco
See more