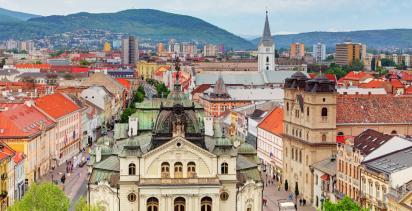 Slovakia Tours
Explore Slovakia with Back-Roads
A proud, independent country filled with beautiful mountain scenery, medieval villages, breathtaking castles and historic monuments, Slovakia is a must-see for those seeking a true taste of Central Europe's centuries-old folk traditions. From the verdant forests of the High Tatras to the Gothic architecture of Kosice, there's much to discover when you veer off the beaten track with Back-Roads.
Our top experiences in Slovakia
Visit the ruins of Spis Castle
Set atop a hill overlooking the town of Spisske Podhradie, the imposing Spis Castle is one of Slovakia's most fascinating medieval ruins. During our visit, we'll take in the sweeping views from the top of the 12th-century tower and explore the museum of medieval history housed within the castle's fortified walls.
TOUR: Explore Eastern Europe
See more
Enjoy a cable car ride through the High Tatras
What better way to see the beauty of the magnificent High Tatras than by going up, up and away in a cable car? On our leisurely trip to the top of the mountains, we'll pass above the clouds for fantastic views of the area's towering peaks – and the peaceful country landscape below.
TOUR: Explore Eastern Europe
See more