Wales - Best Explored Along the Back Roads
The Hidden Beauty of Wales
A land of miners and farmers, poets and preachers, the little Principality of Wales punches above its weight in the realms of culture and landscape.
It's one of Europe's best kept secrets, though overshadowed in fame by its larger Celtic neighbours Ireland and Scotland. The latter boast of haggis and shamrocks, tartan, Guinness, ceili and whiskey. Their two iconic capital cities, Dublin and Edinburgh act as magnates for those wanting the expressway to a Celtic experience. Wales presents only Cardiff, leeks and endless sheep to the global imagination, but in reality has so much more. The country's language, Cymraeg, is spoken by more people than all the other Celtic countries and regions of the world put together, although everyone speaks fluent English with a lilting, sing-song clarity. Welsh Male Voice choirs capture this musicality which permeates the nation's soul and informs of half-forgotten battles, chapels and the communality of rugby and the coal mine. It is said that coal dust timbred the voices of the men to give the choirs a unique sound; this sound survives still, though the pits themselves have now been consigned to an industrial heritage recognised by UNESCO as of world importance. Although one of the power-houses of the industrial revolution, Wales is essentially a pastoral country and it remains more unspoilt than almost any part of western Europe.

No clichés can do justice to this most attractive corner of the British Isles. Its landscape, redolent with images conjured by King Arthur and Tolkien, is a poem of nature; its natural beauty is shaped by forgotten generations in hedge, field and stone. This little country's beauty is enhanced by its kaleidoscopic light, with gentle shifting mists, rainbows, and shafts of intense light slanting between slate clouds to startle shaggy-bordered fields into electric green. Surprisingly impressive mountains shadow narrow, steep sided valleys domesticated before even the Celtic twilight gave birth to the Druids and bards whose ghosts still haunt the land.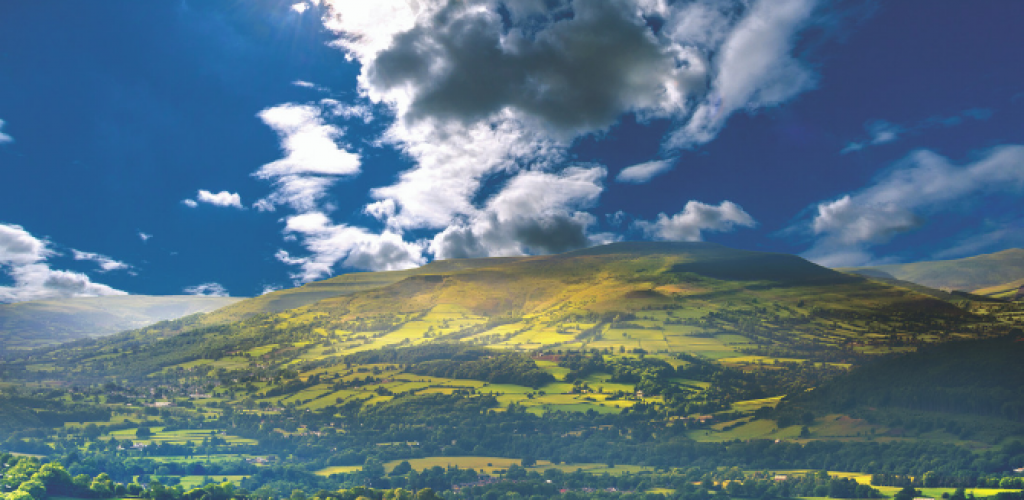 The History of Wales
After the Romans arrived the old religious ways were gradually replaced by Christianity. When Saxons spilled across the North sea four-hundred years later Britain was thrown into the Dark Ages but Celtic Christianity sheltered safe behind Wales's border hills. This was the 'age of the saints' when holy men founded churches around Wales and spread their message across the Celtic seas to Ireland, Scotland, Cornwall and Brittany. The remains of this early Christian past can still be found in the Celtic crosses, Holy Wells and 'Founders' churches that hide from unwanted attention in lonely valleys and dot rocky coasts. Long after the Saxons themselves were Christianised, Norman conquerors of England besieged and harried Wales. It took them 200 years to finally conquer what became known as the Principality of Wales, during which time 600 castles were built to guard, subdue and colonise. Some of these, like Caernarfon Castle, are thought of as Europe's finest surviving examples of medieval architecture. Others, ruinous stone outcrops, are reminders of a warlike frontier that existed for 700 years until the English conquest was completed in 1284.

The history of Wales is layered with legend. Its stories of war and magic, spiritual awakening and endless toil, graft themselves to its unsurpassed landscape. It is the unique embodiment of a relationship between one land and its people that has helped shape the modern world but which also stretches back to the far mists of time.
Key Experiences in Wales
1. Hear a male voice choir.
They are all around Wales and warmly welcome visitors at their rehearsals. Not just fantastic singing but a chance to chat to some real people and experience local flavour.

2. Take a tram up the Great Orme.
This hill sits right next to Llandudno. It has a bronze age copper mine, a founders church dedicated to St Tudno, and fabulous views of the town and along the coast. You'll enjoy the tram too.

3. Visit an eisteddfod.
These take place all over Wales in the summer. The biggest, international eisteddfod, takes place in July at Llangollen. Eisteddfodau (the plural) are Welsh cultural festivals that include dancing, poetry competitions and all things Welsh. Don't be put off by the language barrier as anyone will be happy to explain what's happening in fluent English. You might even meet a modern-day druid.

4. Shout "mint sauce" at one the thousands of sheep that line, and sometimes occupy, the thousands of miles of single track roads in Wales. Watch their reaction!
Tips to see Wales like a local
1. A coffee at the Bay.
Cardiff Bay is has been transformed from what was once the world's largest coal port into a gleaming new leisure district. At its heart is the new Welsh Assembly and the Millennium Centre (the home of Welsh National Opera). Grab a coffee in the spacious foyer and you might be treated to a free concert. Alternatively, 250 yards away is the Norwegian Church where children's writer Roald Dahl was baptised. It's now an arts centre cum café and offers great views of the Bay.

2. Cardiff's Victorian arcades.
These ornate, 100-year-old shopping malls are lined with interesting, specialist shops and are especially good if it rains. Most of them are off the High Street and its continuation, St Mary Street, including the Central Market where everything cheap can be had under the one roof. Here is the place to hear a real Cardiff accent.

3. The smallest and the largest at Conwy.
This tiny walled town and its castle form part of a UNESCO world heritage site. If you have the time you could visit Britain's best preserved Elizabethan town house, Plas Mawr, in the High Street. If you don't have time to go in, look down the street that runs to its side and see how large it is, and then make your way through the town wall to Conway Quay, where you can poke your nose into Britain's smallest house.

4. A beer on the pier.
Llandudno pier may not be the most impressive to look at from the shore, but it has most things that a pier should have, including a pub at the end. So brace yourself for an invigorating walk and reward yourself with a pint and one of the best views to be had of this Victorian seaside town.

5. Lunch in the country.
Stop by The Royal Goat Hotel for fine food in an establishment steeped in history. The Inn's landlord invented the maudlin story of Beddgelert being the grave of the faithful Dog Gelert. In fact 'Celert' was a saint, not a dog. He must be turning in his bed.

6. Visit a town pub.
Try the Queen Victoria Pub & Restaurant; probably the most civilized pub in Llandudno and the food served upstairs is traditional countryside fair with a refined presentation.

The scenery is stunning and varied, but it can be enjoyed as one place. What you learn of its history and culture builds day by day so that by the end of the tour you have a real sense of the place and its people. This contrasts with many other tours where each day brings a new confusing history that you haven't got time to take in before you're on to the next place. Wales is womb-like with its mountains and small valleys (cwms) and while here it's easy to imagine that the world outside doesn't exist.