Tour code: BEWNZLL-9
Tour Inclusions
Nights

Meals

4 Breakfasts, 3 Dinners

Battlefields

Driver
ANZACS on the Western Front
5 days
France / Belgium
Max 18 Passengers
Overview
From the trenches at Ypres to monuments marking The Somme, our ANZAC tour maps Australian and New Zealand troops' movements in WWI. Please note, this tour runs on selected dates throughout the season.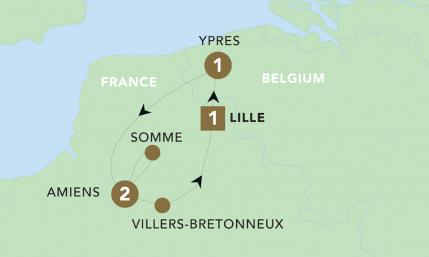 Tour Starts/Ends

1

Overnight Stop
Day Stop
The Back-Roads Difference
Take time to pay your respects at relatives' graves
Visit the Wellington Tunnels
Hear the Last Post at Ypres
Tour Inclusions
Accommodation
4 nights in boutique accommodation
The Crew
Experienced Tour Leader and Driver
Transport
Premium mini-coach transportation
Reviews

9 reviews
4th August 2019

Review rating

We had an amazing trip and our tour guide was very interesting and very knowledgeable. He went to great lengths to make sure that the people in our group found their relatives graves and also the area in which they died, very emotional. Would recommend this tour for anyone interested in the Anzacs.

3rd August 2019

Review rating

The guide Mark was fantastic, he made the trip.. tThe hotels were okay the food reasonable. Mark was so knowledgeable and passionate, a wonderfl experience. A must to do trip.

30th July 2019

Review rating

Our guide Mark was amazing. His extensive knowledge and passion for the history of the Western Front made this tour something to remember. We all came away having been very moved by the stories and what we saw. The experience will stay with us forever. Our guide and driver looked after us extremely well, nothing was to much trouble. Hotels were not great definitely not to the standards of the previous Back-Roads tours we had done. This was disappointing.

28th July 2019

Review rating

Glad I went on this tour as I finally saw My late great uncle's name on the commemorative wall at Villiers-Bretonneux and also Mouguet Farm where William was killed in action there..

28th July 2019

Review rating

Excellent tour guide, good / comfortable vehicle and excellent driver, covered the areas we were interested in plus went the extra mile to take me and my wife to my grandfather's grave and found out more details regarding how and where he was killed, hotels were generally very good to excellent.