Unfortunately, there are no 2022 departures for this tour. Please check back soon for 2023 dates.
Tour code: BFWLL2
Tour Inclusions
Nights

Meals

6 Breakfasts, 2 Dinners
ANZAC on the Western Front - Special ANZAC Ceremony
7 days
France / Belgium
Max 18 Passengers
Overview
From the trenches of Ypres to monuments marking The Somme, our ANZAC tour maps Australian and New Zealand troops' movements in WWI – delving into the stories of the soldiers' involvement in the battles of the Western Front. With poignant visits to cemeteries and national memorials on the agenda, as well as a special ANZAC Day service at Villers-Bretonneux – join us in remembering those who fought during the Great War on an unforgettable history-themed journey.
Worth Noting…
For tours departing on the 22nd April, Day 3 and Day 4 of the itinerary will be exchanged – meaning the visit to The Somme is featured on Day 3 and the ANZAC Day service takes place on Day 4.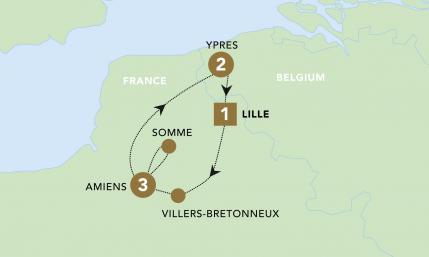 Tour Starts/Ends

1

Overnight Stop
Day Stop
Tour Highlights
Attend a poignant ANZAC Day Service in Villers-Bretonneux
Delve into the Australian story on the Western Front at the Franco-Australian Museum
Visit the Wellington Quarries – a network of tunnels dug by the New Zealand Tunnelling Company
Tour Inclusions
Accommodation
- 6 nights in hand-picked accommodation
The Crew
-
Experienced Back-Roads Tour Leader and Driver
Transport
-
Premium mini-coach transportation